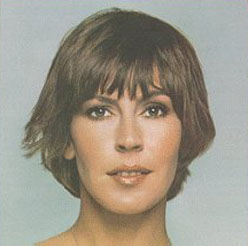 Born into a well-known Australian show business family in Melbourne, Victoria, Australia singer Helen Reddy enjoyed success in the 1970s, placing fifteen singles in the Top 40 of the Billboard Hot 100. Three of those fifteen songs reached #1, including her signature hit "I Am Woman."
As a teenage mother, Reddy traveled to New York with little money to pursue a singing career. Her first hit was "I Don't Know How to Love Him" from Jesus Christ Superstar in 1971.
"I Am Woman" was recorded and released in May 1972, but barely made the charts. However, female listeners soon adopted the song as an anthem and began requesting it from their local radio stations in droves, resulting in its September chart re-entry and eventual #1 hit status. "I Am Woman" earned a Grammy Award for Best Female Pop Vocal Performance.
Over the next five years, Reddy had more than a dozen other U.S. Top 40 hits, including two more #1 hits. These included the country ballad "Delta Dawn," #1 in 1973); "Leave Me Alone (Ruby Red Dress)," "Keep on Singing," "You and Me Against the World" (written by Paul Williams and featuring daughter Traci reciting the spoken bookends), "Emotion," "Peaceful," "Angie Baby" - which reached (#1 in 1974, "Ain't No Way To Treat A Lady," "Somewhere in the Night," and the Carole King-Gerry Goffin song "I Can't Hear You No More."
Reddy's total sales figures for the United Sales are estimated in excess of 10 million singles and 15 million albums; her worldwide album sales tally is estimated in excess of 25 million.
HIGHLY Recommended (Links to Amazon):


####